It all started in Connecticut. Nancy, our beloved National Chair, drove over to meet me at Cheng's Buffet in Orange, CT after finishing work. After scarfing down super sugary green tea ice cream, we went straight to business: An ECAASU 2 hour road trip to Boston! We stocked up on KitKats, Twixes, and Wheaties. Nancy also packed an Honest Tea simply because she "never had it before." I just drank water and desired a KitKat Bar every half a mile (Nancy's driving made me nervous!). In the end, I settled for the Wheaties. I figured my body could thank me later for my prudence.
So we drove. We talked ECAASU. And we blasted Enur's Calabria at full volume with the windows rolled down. Everyone on the I-95 became jealous of our little party, which was going great until Nancy's psychotic GPS got us lost. We ended up paying tolls at 5 different booths before being able to reorient her car in the right direction. Two hours into the trip and we had already gotten ourselves into trouble.
We ended up sleeping over at a dorm in Harvard Law, belonging to one of Nancy's high school friends. Other than reminiscing our frightfully young days in college (ie. a mere 4 months ago) while admiring the Harvard Law dorms, what was supposed to be an exhilaratingly adventurous night out (led by Captain yours truly) ended up becoming an early slumber: we pretty much passed out on every surface we found: we're no fun!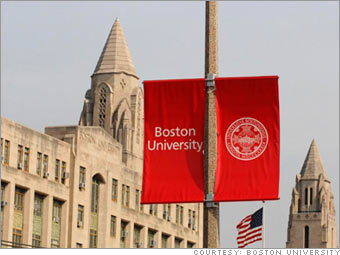 I woke up just in time to stop Nancy from throwing a rock at me. We quickly got ready and headed out the door. After navigating the T and managing to avoid getting lost a second time (this time I led the way...better than any damn GPS), we found ourselves at the GWU building at Boston University. By that time it was 65 degrees of gorgeous sun! Thank you, Boston!
And so we met the intrepid crew of Boston BASIC. Upon registering they were already throwing T-Shirts and orange folders at us, asking us where we were coming from and if we knew him or her and so on and so forth...whatever it is that people do to avoid awkward first moments. And putting aside my own awkwardness, I found the staff of Boston BASIC to be extremely friendly and cordial; I really enjoyed seeing a conference where everyone was down-to-earth; even the head coordinators took a few minutes out of their time to say hi and ask if we needed anything. I of course said yes: I would like more free T-Shirts. They were keen enough to decline my requests (I almost managed to snag 2!).
Eventually, we headed into the auditorium and heard Jennifer Lee give a talk on the Americanization of Asian food and how it could relate to the way we define "Asian American." A New York Times reporter, Ms. Lee certainly demonstrated the absolute thoroughness in her research as she combined a plethora of mythbusting facts with effectively dry humor; a quality I haven't seen too much in the standard-fare stoicism of other keynote speakers offered at other conferences. She was quite well received; from applying the origins of fortune cookies, chop suey, and General Tso as vehicles for defining Asian American identity, we were able to extrapolate the big picture in how "Americanization" has transformed our identities as "Asian Americans" over the years.
So after Jennifer, the workshops started. Students went to and fro while Nancy and I explored the BU area, searching for a proper venue for the ECAASU mixer that was to take place after the conference. Eschewing the original location, we decided on the larger and more popular Bertucci's. While Nancy made preparations to inform everyone of the location change, I prepared for my (uber-cool, seductively informative) workshop on Oncampus organizing.
Afterwards, Nancy and I returned for lunch where we met with AALDEF representatives and the founders of Boston BASIC. Pretty soon the rest of the conference delegates filed in, munching away at the variety of spring rolls and sandwiches offered, as well as this really kickass "make-your-own-sauce" station (why doesn't ECAASU have this?!). We then launched into a thumb tapping ice breaker, while we took it upon ourselves to play a mini-game of Mafia at our table. Although in was over in 2 quick rounds, AALDEF members, the Boston BASIC founders, ECAASU, and a few undergrad BU students got a little bit closer.
After lunch, we went off to the networking mixer where I met with the girls of Mochi Magazine and Asiance Magazine. I also had great fun pointing at people yelling, "YOU! YOU look like you would be a great voter! And YOU! YOU look like someone who would be have so much fun at ECAASU!" In other words, our ECAASU table was both registering people to vote and those who were interested in attending ECAASU. And seeing how we were loud, played music, and had our table in front of all the others, we certainly didn't fail in either regard.
After the networking mixer, the noble ECAASU duo set off to began facilitating its (SEXY) workshop on oncampus organizing. About 15 people showed up, perhaps lured by our offer of free food in the BASIC program. While I kicked off my workshop on various ways to advertise campus programming, I saw that a few were furiously scribbling down notes. After a spirited one hour back and forth discussions, mini-lectures, and a few moments of comic storytelling, I was happy to see 15 bright shining faces set off in anticipation to make their next few events more badass.
Afterwards we congregated in the auditorium once more for the performances, where we saw a very talented hip hop dance team Unofficial Project of Boston University, an extremely poignant and deeply affecting "Comfort Women" monologue given by BU's Korean Students Association concerning the Japanese use of sex slaves during World War II, and a very surprisingly funny Chinese comic, Joe Wong, who managed to take the identity of misconstrued "Chinese foreigner" and turn it upside on its head. Seriously, though, BRAVO, because I had never seen anything like it. And so the conference ended with a flurry of laughs and smiles, and I was very pleasantly surprised by the overall success of programming that the Boston BASIC crew managed to put together that day. But it wasn't over yet. We got hungry and started thinking about food.
Standing on tables, Nancy and I screamed out "FREE DINNER!" for the delegates still present, determined to keep everyone together for one last hurrah in the name of Boston BASIC. Originally anticipating 15 people to attend, we ended up with about 40 people signing up an hour before the dinner was even supposed to begin. And as these 40 people awkwardly sat around waiting for a 6pm dinner to come, Nancy and I decided to initiate a rousing megagame of Mafia.
Suffice to say, our efforts worked; in 30 minutes, we had cheerful shouting match among the townsfolk in trying to root out the murderers; once more a testament to the infallibility of Mafia as the ultimate icebreaker. After about 12-15 rounds of awkward blaming and embarrassed laughter, our army of 40 Asian Americans were off our way to Bertucci's.
Just as how we were caught off guard with the number of people attending our mixer, so was the restaurant, as they crammed as many as 8 people into booths designed for 4. But if I have to deign an award to "Best Service," it would go to the amazing waitresses at Bertucci's who refrained from putting up any sort of fuss, especially when everyone ordered the cheaper pizzas to share.
And so Nancy and I went from booth to booth, extolling the virtues of ECAASU and praising the camaraderie that had been formed by BASIC. Simply grateful we were all getting free dinner, we were quite a cheerful bunch at the restaurant. Nancy and I ended up signing up nearly 50 interested delegates, many of whom ended up befriending us on Facebook by the end of the weekend...
Finally tired from all the shouting, the mafia playing, the walking around, Nancy and I collapsed into a booth with other ECAASU board members and friends, freeloading off of other people's pizzas since we didn't even have time to order our own. As the dinner continued and eventually tapered off, groups of people came by our booth to thank us, while eagerly predicting our future meeting at ECAASU 2009. The best part was to hear how people wanted to get more involved with ECAASU after graduating...a sign that Nancy and I aren't as old as we think we are.
As dinner ended, we ended up trekking to pregame at one of the dorms of a BASIC coordinator. A few other BASIC coordinators and random friends-to-be joined us, as we bartended, chatted, danced...all the stuff that got us to know each other a little better. 
The next became a whirl of scattered images and faux memories.
I'll just stop there.
The next day we drove our way back to New York City, discussing and comparing the numerous Asian American conferences that have emerged in recent memory. Boston BASIC was one of them and was certainly deserving of our praises. So Boston BASIC volunteers, if you're reading this, WE HAD TONS OF FUN!
All in all, the weekend up at Boston BASIC was basically (har har pardon the pun) one of the most down-to-earth and all around friendliest Asian American students conferences I've ever attended. Although I'm one to hate alliteration, I'll suck it up this time given the worthiness of the following statement: Bravo, Badass Boston BASIC!