Hello ECAASU delegates!
This is Calvin Sun of the ECAASU Board of Directors and The Monsoon Diaries, and we're back from a sneak preview visit of ECAASU 2013. I'm particularly excited this year because after 6 ECAASU conferences, this will be the first time I'll be experiencing my pride & joy in my hometown of New York City and my alma mater at Columbia University! And our host lodging, Hudson Hotel, is located right in the neighborhood where I called home after graduating.
Having lived here all my life, I know how NYC can be a difficult place to navigate. Since ECAASU is going to run like an NY minute with a million things happening all at once, we don't want you wasting your time getting lost. Don't be "that tourist" that winds up on Jersey Shore because you took the wrong train (although I'd be impressed if you pulled that off).
So everything is looking good. The Columbia University ECAASU 2013 team has been working 24/7 to coordinate the conference of a lifetime. With all the effort put into what will be a spectacular weekend, we'd like to give you a head start on navigating this conference so you save a lot of time and get a little peek on what to expect!
—
THE BASICS
First things first, if you haven't registered yet for ECAASU 2013, REGISTER NOW.
For those of you staying at the Hudson Hotel and if you're taking public transportation, take whatever subway to the 59th Street Columbus Circle station, accessible via the A, B, C, D, and 1 lines.
To ride our subways, you need to buy a Metrocard at any subway station; a good initial amount is $20 for the weekend. You can pay for a Metrocard with cash or credit/debit cards at the machines.
If you're driving, uhmm...plug in "Columbus Circle" on your GPS. Easy.
Once you get there by subway or by car, orient yourself by looking for Columbus Circle, the 141st largest city square (really) in the world. You can't miss it (click on any of my photos to enlarge):
Walk north along the Time Warner Center on your right. The Time Warner Center is the big building with the giant glass front (btw there's a Jamba Juice in the basement + 2 of the world's top rated restaurants on the top floor).
If you see the CNN sign ahead of you, then you're walking in the right direction:
After passing the Time Warner building on your right, you should be standing on the corner of 58th Street and 8th Avenue. If so, turn right and walk/drive west down this block:
You should pass by a Pinkberry on your left. That's a sign you're not lost (yet?). Keep walking west and you'll notice a big bright white (at least brighter than the buildings next to it) building with a giant fire burning in front of it:
That fire? Yeah, kinda excessive, but that means you made it. Welcome to the swanky Hudson Hotel:
Enter through the green sliding doors and if there are bouncers (there's a club/lounge in your hotel), tell them you're guests checking in and walk right on by. Go up the escalators and check-in on the front desk! Don't say we didn't warn you about its beautiful lobby.
Behind you is a popular bar/lounge for those of you 21+ (highly recommended..used to hang out there often when I lived next door).
__
FRIDAY
After checking into wherever you're staying, whether you're coming in on FRIDAY or SATURDAY, head uptown afterwards to Columbia by car or -- if you want to minimize your carbon footprint and do your part saving the world -- taking the subway.
EXTREMELY IMPORTANT: Please make sure that if you're taking the subway north from Hudson Hotel to Columbia, you take the UPTOWN *1* train and ONLY the UPTOWN 1 train. Many lost souls (Columbia freshmen) have made the foolish assumption that the 2 or 3 trains (because they're on the same red line as the 1 train) will take you to the same destination. However, the truth is after passing 96th Street, the 2 & 3 lines actually split off and lead you into East Harlem and the Bronx. So remember, ONLY the 1 train takes you to Columbia University.
If heading from Hudson Hotel and Columbus Circle, it's 8 local stops uptown on the 1 train;
59th Street - Columbus Circle (get on here)
66th Street
72nd Street
86th Street
96th Street
103rd Street
110th Street
116th Street - Columbia University (get off here)
You'll know it's the stop when you arrive because the subway station decal turns light blue (our school colors!):
Get off the train and walk up the stairs back to ground level. You should see either this:
or this:
If this is the case, and despite it being as pretty as it is, I need you turn around and walk down SOUTH about a block along Broadway Avenue until you hit 115th Street & Broadway Avenue:
This is where Registration is. You are now facing the Broadway Avenue Entrance of Lerner Hall.
Pat yourself on the back for getting this far. You're now at Spiderman's alma mater! Now go inside and register. There will be volunteers waiting to check you in:
After you register, TURN LEFT....
...and KEEP WALKING.
Please don't stand around trying to catch up or looking idle; we need you to keep moving as this area gets congested very easily. Once you make that left, you'll end up in a larger space to gather all your thoughts/hopes/dreams:
You're now in the North Lobby. If you are to arrive early and want to take a campus or city tour (leaving at 4pm and coming back at 7pm), then stay here.
If you want to attend a Kick-Off Mixer, walk up the ramp that'll be on your left:
Once at the end of the 1st ramp, make a 180 degree turn around to the 2nd ramp and walk up.
The kick-off mixer will be at 4pm in the East and West Ramp Lounges, which should be immediately on your left as you walk up the 2nd ramp:
But if you're registering when the Opening Ceremony is about the begin, then stay in North Lobby because this is the ground level entrance to Roone Arledge Auditorium is (which you can see via the doors on your right).
DO *NOT* BE LATE...NOT ALL SEATS ARE CREATED EQUAL IN LERNER. Doors open 7:15pm, show starts 8:00pm:
If you're running late (how dare you) or the ground floor is over-capacity, take elevators up to the 2nd floor and enter via the balcony (aka Roone Arledge Cinema):
After the Opening Ceremony, go out on the town (find me) or go to bed!
__
SATURDAY
Rise and shine. Rinse and repeat. Head back to Columbia! If you didn't do your registration on Friday, then you need to scroll above so you know where to register (the Broadway Avenue entrance of Lerner Hall).
But if you already did register, then you can take the scenic route and enter through the official campus gates on 116th Street and Broadway Avenue with your new badge:
Keep walking! Take some pictures; Columbia students are used to it.
Once you see a clearing, turn right. Sometimes there will be an ambulance on your right before you turn:
Once you make your right, your will see Butler Library on your left, and Lerner Hall on your right:
Now grab free breakfast (8:00am-10:00am) at North Lobby (1st floor, in case you forget)...
...before heading into Roone Arledge Auditorium for the Welcome and Keynote (10:00am):
_
Your 3 workshops will take place in the following buildings (10:45am, 1:15pm, 2:45pm):
Alfred Lerner Hall
Hamilton Hall, which is directly northwest from Lerner:
Barnard, Milibank & The Diana Center, which is across the street from Columbia:
You'll have to leave Columbia's main campus to get to Barnard's buildings. Start with your back to the main 116th Street and Broadway Avenue gates:
Cross the street and enter Barnard's campus gates:
You'll come upon Barnard Hall:
For The Diana Center and Milibank Hall, turn right when you're facing Barnard Hall and walk north:
Keep walking. The Diana Center will be on your right:
The Diana Center:
For Milibank Hall, pass The Diana Center on your right and keep walking north. Milibank Hall will be the building straight in front of you:
But to make your life easier, most of the Saturday workshops will take place at Alfred Lerner Hall. And free lunch will be served in between workshops #1 and #2 in Roone Arledge Auditorium from 12pm-1pm!
**Check out my "Asian Americans & Sex" workshop at 10:45am in Room C555 on the 5th floor of Lerner. Those of you who already attended it in previous years (thank you!) might be interested to know that I'm revamping the whole workshop to discuss sex and its effect on pornography, standards of beauty, body image, breaking the binary of gender roles, mass media, and social taboos:
During or after the workshop sessions, either head to the opportunities fair (2:00pm - 5:00pm) in Lerner Party Space in the Basement of Lerner Hall:
OR take part in choosing the host for next year's ECAASU at the ECAASU 2014 Bid Presentation (4:05pm-5pm), which will be in the Satow Room on the 5th floor of Lerner Hall:
More info on bidding for next year's host: ECAASU 2014 Bid.
_
After a Colosseum-style election in picking the next ECAASU 2014 host, relish what you've experienced and wipe away those tears at the Closing Ceremony (5pm-6:30pm) in Roone Arledge Auditorium:
_
If you haven't had enough socializing and grassroots empowerment, get free dinner by attending the Forum for Asian American Affinity Groups (6:30pm-8pm).
YES, free dinner will be served (!!!) but only up to 2 members per student organization may attend. Please RSVP your spot by clicking here.
The Forum for Asian American Affinity Groups will take place in Lerner Party Space in the Basement.:
_
...Or go change and get ready for the afterparty!
Some of you may have heard of this Friend of ECAASU Gala at Midtown Loft & Terrace (8pm-10pm). Unfortunately due to strict NYC fire hazard laws, space at the gala is LIMITED to 300 people. Not everyone will be able to get in; you must reserve your spot by getting a special pass.
How do you get passes? Each workshop facilitator will have a handful of "golden tickets" given out to who they believe participated the best in their workshop. Golden tickets will also be handed out at the AA Affinity Forum and the ECAASU 2014 Bid Presentation. If you get this golden ticket, you get to go to the gala along with a +1! (aka each golden ticket gets 2 people in).
If you got this special pass, then head to 267 Fifth Ave (cross st: 29th Street). To get there via public transportation and if you're taking the 1 train from Columbia or Columbus Circle:
Take the DOWNTOWN

1

train to 42nd Street - Times Square
Get off the train (but don't leave the station!) and follow the signs to the Brooklyn-bound

N

or

R

train.
Take either the

N

or

R

train 2 stops to 28th Street.
Exit the station
Walk one block north to 29th street, and walk one block east to 5th Avenue
Welcome to Midtown Loft & Terrace (8pm-10pm), venue par excellence for joyous occasions such as weddings and ECAASU galas:
Whether or not you went to the gala, exercise your last sobering chance to impress that special someone and say your goodbyes at our 2 afterparties!
ECAASU will be throwing an LGBTQ Party for our LGBTQ delegates and allies starting at 10pm! Taking place a half an hour earlier than the general afterparty at LQ NYC, it will be at Bann Korean Restaurant on 350 West 50th Street, btw 8th & 9th Avenues (10pm-close).
Your afterparty ticket is valid for both parties!
To get to the LGBTQ afterparty:
Start from the Hudson Hotel on 59th and 9th Avenue
Walk south 8 blocks along 9th Avenue
Walk half a block east until you find Bann Restaurant: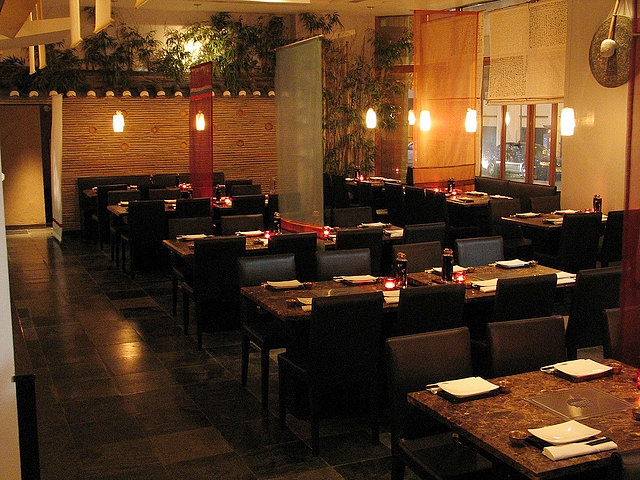 And then there' is the general afterparty at LQ NYC (10:30pm-close): 511 Lexington Avenue (cross st: btw 47th and 48th streets), which venue can fit 1200+ people!
If you're coming from Columbia University or Bann Restaurant/Hudson Hotel:
Take the DOWNTOWN 1 or

E

train to 42nd Street - Times Square
Get off the train (but don't leave the station!) and follow the signs to the S train.
Take it 1 stop to 42nd street - Grand Central Station
Get out of the station
Walk north 5.5 blocks along Lexington Avenue until you reach LQ NYC (10:30pm-close):
If you're coming from the gala at Midtown Loft & Terrace:
Walk east 1 block to Madison Avenue
Continue walking east 1 more block to Park Avenue
Continue walking east 1 more block until you hit Lexington Avenue
Walk south 1 block to 28th Street
Enter the

UPTOWN

6

subway station on 28th Street & Lexington Avenue
Take the

6

train up 2 stops until 42nd street - Grand Central Station
Get out of the station
Walk north 5.5 blocks along Lexington Avenue until you reach LQ NYC (10:30pm-close)
I would tell you to go to bed again, but on an ECAASU Saturday night? That might not happen.
BONUS!!! Members of ECAASU National and the Board of Directors will be taking determined night owls for the munchies afterwards to the legendary Chicken & Rice cart, which never closes (and is coincidentally a short 5 min walk away from Hudson Hotel).
If you never heard of this place before, then don't miss out on this NYC staple:
Interested in coming? Don't play too hard, stay awake and find us when the parties winds down!
—
SUNDAY
Wake up in the morning feeling like P-Diddy. ECAASU (sadly) is coming to an end. With a million memories and pictures behind you, it's time to go home.
BUT WAIT...you're only young once! Delay the symptoms of ECAASU withdrawal (its more painful than you think); leave your luggage at the front desk while you go out and explore more of NYC with ECAASU! (Keep reading)...
...Myself and few other ECAASU board members will be more than happy to show you around our beloved city; Walk the Highline! Shop at Chelsea Market! Gallivant through Central Park! Pizza at Artichoke's! Take the free Staten Island Ferry! See the Statue of Liberty for free! Walk the Brooklyn Bridge! Shisha in East Village! The possibilities are endless. And we'll make it happen.
If you're interested, let any one of us know at the conference, or leave a comment below with your contact info, and we'll be in touch!
...Otherwise, we'll see you next time at ECAASU 2014!
—
So there you have it: ECAASU 2013 is almost here. I've had the privilege of sitting with the Columbia ECAASU Conference Board on their weekly meetings since September 2012, and it's been humbling to watch this conference grow from a simple idea into what probably will be one of the most amazing ECAASU conferences in history. I can't express enough on how proud I am of all the hard work they've put into this; they're working nonstop day and night to make sure we all have an incredibly memorable weekend. Get excited, everyone.
So if you haven't registered yet, REGISTER NOW.
See you all very very soon,
- Calvin Sun, ECAASU Board of Directors, ECAASU National, and ECAASU Conference Board!